Licorice Pizza - An ode to color and 70's style
The new movie by Paul Thomas Anderson is being praised for being equally fun, awkward, cheerful and daring, but something that is obvious and has also captivated us is how aesthetically pleasing it is.
Named after a popular 70's Californian record store, Licorice Pizza is set in the San Fernando Valley in 1973, where the director grew up.

The movie is a coming-of-age comedy-drama telling the story of Alana Kane (Alana Haim) and Gary Valentine (Cooper Hoffman) growing up, running around and exploring love and friendship in spite of the obvious age gap. The music, the cars, the colors and, of course, the clothes(!) are some of the main attractions in this movie, aside from the moving story between these two characters navigating life together.
The wardrobe, by costume designer and long-time Anderson collaborator, Mark Bridges, is all about halter tops, t-shirts paired with bell-bottoms and cuban-heeled sandals for Alana, while Gary tries really hard to look older by wearing knitted vests and tailor-made suits.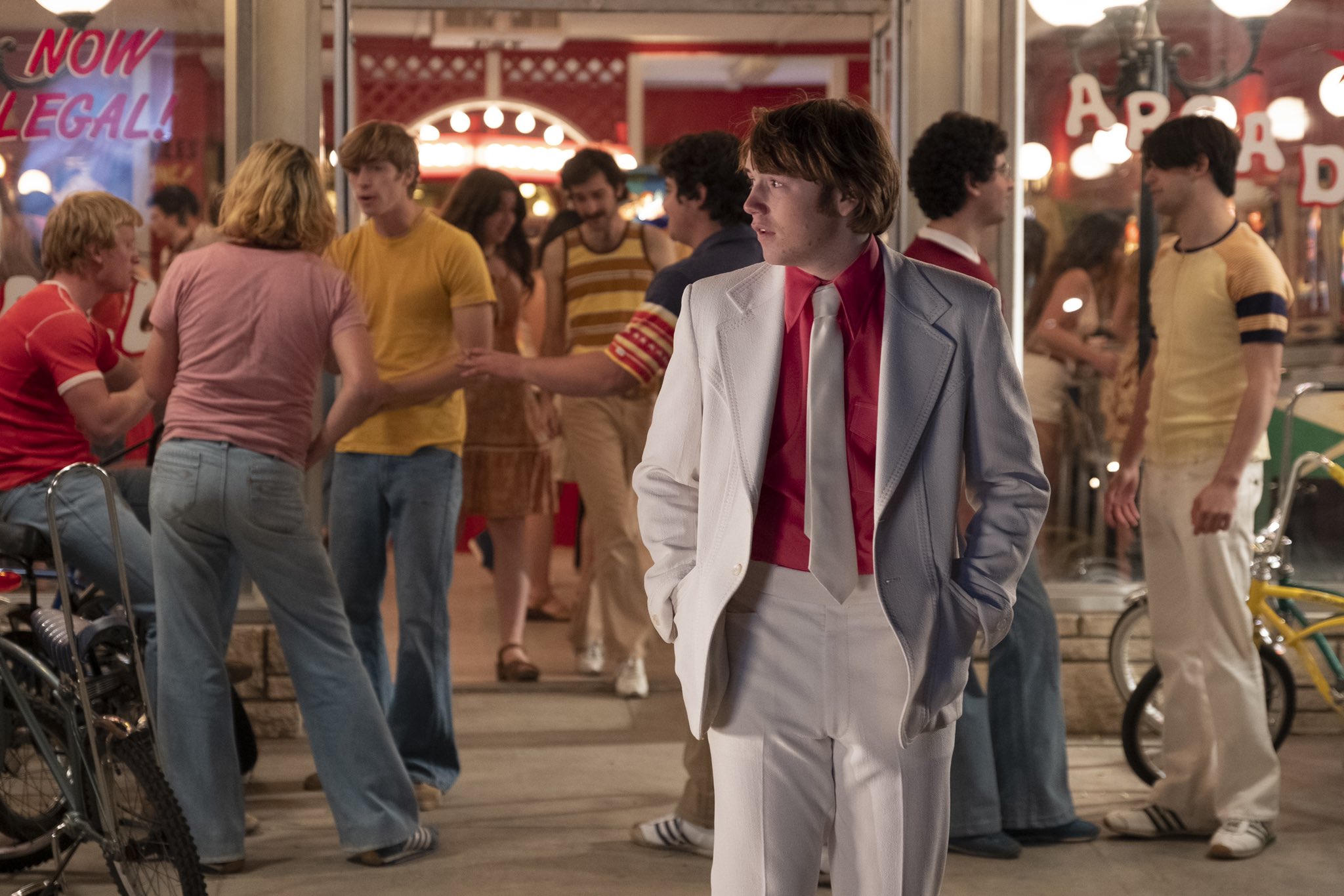 When one thinks of the 70's, all hues of beige, camel and brown immediately come to mind. And it is true that earthy tones were huge during that time, but the youthful spirit of the characters in this film shows that there is more than that. They often sport bright colors, patterns and plenty of pastels, creating a very varied palette.
Alana and Gary's enthusiasm reminds of those days in which things were absolutely exciting. They are always teasing each other and running around the streets, but not because they are in a rush; it's just the fact that they have a lot of energy and want to see what adventure comes next.
The lighthearted spirit of the seventies in dreamy and sunny California captured in this movie has inspired us to embrace their styles and look forward to the spring and summer months.
T-shirts are a staple. They will look great tucked inside a cheeky pair of flared jeans or velvet pants for some added texture.
We love Samsoe Samsoe! They capture the essence of that perfect 70's vibe in their color palette and retro cuts.
Stripes & Patterns are always refreshing.
Flared pants are a must.
Go for some 70's collars and groovy designs.
And last but not least, comfy shoes such as Converse and the great retro-looking Novesta shoes to run free in the streets: